Critics
"Deep feelings spellbound in music! A moving musical experience."
<Westfälische Nachrichten, 10.10.2016>
---
Please click on the picture in order to read the entire article: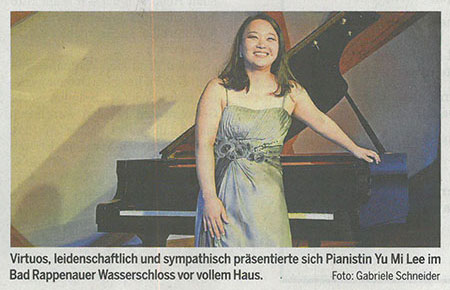 "Played and laughed into the hearts of the audience."
<Kraichgau Stimme, 17.08.2016>
---
"...floating through the hall with ravishing stroke technique and a beautifully metered dynamic range!"
<Hannoversche Allgemeine Zeitung, 09.08.2016>
---
Please click on the picture in order to read the entire article: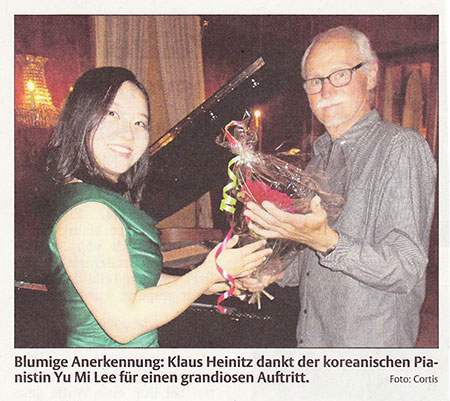 "As if from another world!
...the audience holds its breath almost incredulously. "
<Witzenhäuser Allgemeine Zeitung, 08.08.2016>
---
"Spellbound, the audience listened to her emotional, nuanced playing, which made the innermost strings sound out. "
<Altenaer Kreisblatt, 23.03.2016>
---
"Brilliant technique coupled with charm!
... rang out in a depth of soul and expertly crafted beauty that only really extraordinary pianists can produce. "
<Borkener Zeitung, 19.01.2016>
---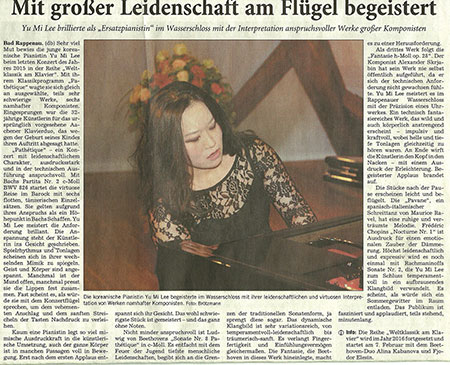 "An emotional Miracle! It seemed, as if summer thunderstorm fall into the hall."  
<Rhein Neckar Zeitung, 28.12.2015>
---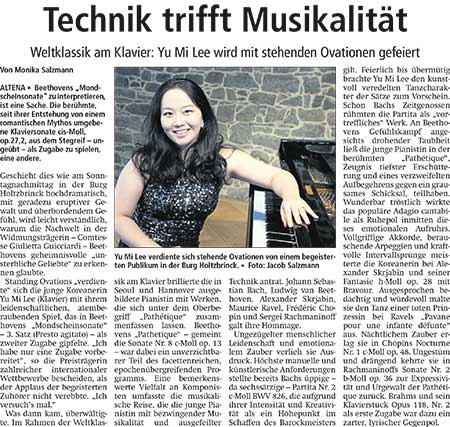 "A young pianist with irresistable musicality and polished technic!
She expressed unbridled human passion - an emotional miracle."  
<Altenaer Kreisblatt, 19.05.2015>
---
"An exquisite gem - Yu Mi Lee literally took her audience's breath away"  
<Deister Weserzeitung, 14.04.2015>
---
"A charming musician with passion and an insightful sound!"  
<Borkener Zeitung, 17.03.2015>
---
"The tempestuous and torn music is often filled with anguish. The pianist is resplendent in her wild ride on the waves of an ocean ravaged by a storm. Highly focused, the music is clearly felt with every fibre of her being; in the end the pianist was also able to make music just from the stark contrasts."  
<Lahrer Zeitung, 10.03.2015>
---
"The consummate musicianship of Yu Mi Lee is immediately evident in the vigorous, dynamic prelude on the Rappenauer grand piano. She plays very impulsively, but also with great sensitivity, which is highly apparent in the powerful, dramatic tones interspersed with quiet, gentle passages. Lee is a spirited player, but also allows emotions to shine through."  
<Rhein Neckar Zeitung, 13.08.2014>
---
"Many pianists can play Brahms. A few hundred can even play his pieces well. But only a select few musicians could play his pieces so outstandingly that the master pianist himself, who died in 1897, would be satisfied. One of these few is the exceptional musician Yu Mi Lee."
<Bergische Morgenpost, 22.07.2014>
---
"She is an excellent artist with a great sense of colours and a great musical fantasy!"
<Roberto Plano-2001 Cleveland International Piano Competition 1st Prize Winner, Professor of the Accademia di Varese in Italy>
---
Her intelligent performance is endowed with intensity and communicative power.
<Christopher Oakden - Professor of the University of Music, Drama and Media, Hanover>
---
She is a highly gifted pianist with a great sensitivity and remarkable understanding of music.
<Robert Benz - Professor of National University for Music and Performing Art Mannheim>
---
Yu Mi Lee achieved an extremely focused tone, resulting in an intimate rendezvous with the audience that became enraptured with the miracle of art – a moment as rare as winning the lottery jackpot. Piano playing at its best!
<Münstersche Zeitung, 29.08.2012>